Breathe Freely with Balloon Sinuplasty
If you've been battling sinus issues and symptoms like pain, congestion, and headaches, a simple, 15-minute procedure could bring you immediate relief. ENT Clinic of Iowa offers balloon sinuplasty procedures that can improve your symptoms to get you back to feeling your best again.
What is Balloon Sinuplasty and How Does It Work?
Balloon sinuplasty safely and effectively dilates sinus openings, resulting in relief from sinus symptoms.
Step 1: A soft, flexible guidewire is inserted into the blocked sinus.
Step 2: The balloon is advanced over the guidewire and is inflated to gently expand the sinus opening.
Step 3: The balloon is removed, leaving the sinus open.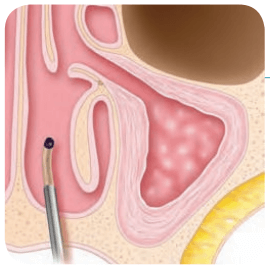 Why Choose Balloon Sinuplasty?
15-minute procedure
No surgeries
No cutting
No general anesthesia
No downtime
Balloon sinuplasty is safe, fast, and effective. Over 150,000 patients have been treated with balloon sinuplasty, and 95% of patients report that they would do it again. With the additional benefits of fast recovery and instant effectiveness, choosing to undergo balloon sinuplasty with the professionals at ENT Clinic of Iowa is a great solution for your sinus pain and congestion.
Balloon sinuplasty technology is intended for use by or under direction of a physician. Balloon sinuplasty has associated risks, including tissue and mucosal trauma, infection, or possible optic injury. Consult your physician for a full discussion of risks and benefits to determine whether this procedure is right for you.